LILIX & DIDI
"YOUNG GIRLS PUNK ROCK"
M&O Music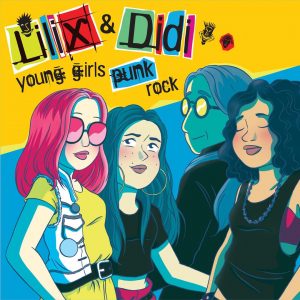 Imaginez deux gamines de même pas dix ans faisant leur premier concert en ouverture du tremplin des jeunes talents à Bures-sur-Yvette en 2012, qui sortent leur premier album la même année, puis qui vont enchaîner les dates en ouvrant pour des artistes sacrément établis tels que Les Wampas, Little Bob, Neal Black, The Crows, Michael Jones, Manu Lanvin ou encore forcément Alexx & the MoOonshiners, car l'instigateur de tout cela et le guitariste du groupe n'est autre que Lionel Riss qui a initié ce projet au sein de l'association Pedagosic. Elles vont également se voir programmées sur des festivals, Bain de Blues, Festi'vallée, Gartempe, Les Agla'Scène, Les Enfants Font du Rock, Scène sur Sable, Jazz à Toute Heure, et il y a donc de quoi s'attarder sérieusement sur ces jeunes musiciennes. Parfaitement interchangeables à la basse et à la batterie, elles ont été rejointes à présent par Zoé au clavier puis maintenant également sur quelques titres à la guitare, et les trois ensemble avec mister Lionel ça déménage de tous les diables !
Je suis avec une grande attention tout ce petit monde depuis pratiquement le début de l'aventure et je n'en reviens toujours pas des progrès accomplis et de la qualité musicale, que ce soit en studio ou en live. Voici donc venir le troisième album "Youg Girls Punk Rock", après "Vive la Récré", "Autre Chose à Faire le Soir" et même le single "C'est Noël" en 2015. Une galette explosive avec des reprises annonçant fort bien les influences de nos jeunes Punkettes, The Ramones, Maid Of Ace, Les Wampas, The Cash, Sham 69, Dayglo Abortions mais également John Lee Hooker avec l'emblématique "Boom Boom" ou encore Renaud dans une version totalement revisitée et très énervée de "Camarade Bourgeois" !
Lorsqu'on étale sur papier tous ces noms on se rend vite compte de la dimension incroyable de ces trois jeunes musiciennes et de leur énorme capacité à vous envoyer le boulet en pleine tête avec une facilité déconcertante ! Il faut forcément rappeler tout le travail accompli par cette association, Pedagosic, et en particulier par Lionel Riss qui permet de faire monter sur scène de jeunes musiciens pleins d'avenir, et dont on voit le superbe résultat avec cet album.
"Young Girls Punk Rock" est une petite merveille de fraîcheur et d'énergie qu'il faut absolument posséder en attendant, pour ceux qui ne l'ont pas encore fait, d'aller les applaudir sur scène plutôt que de subir les starlettes éphémères préfabriquées par les majors qui ont toutes la même voix d'une banalité affligeante et le même style insipide, parce qu'en revanche avec Alix, Élodie, Zoé et Lionel vous allez à coup sûr grimper au plafond !

Alain Hiot
(Zicazic – Paris-Move)

Page Facebook de Lilix & Didi Ici…
Site Internet de Pedagosic Ici…