PAUL GILLINGS
"INVISIBLE PRISON"
Autoproduction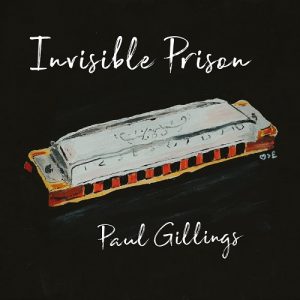 Amis harmonicistes amateurs de gros son et de rythmes qui décoiffent ne passez surtout pas à côté de cet album incroyable car cet artiste Anglais, que personnellement je découvre simplement aujourd'hui, a tout pour séduire sans réserve les adeptes du ruine babines !
En dehors de sa dextérité incontestable sur les dix trous de ses différents harmonicas Seydel, l'énergie déployée tout au long de ces treize titres est une constante chez le Britannique qui s'offre en plus le luxe de jouer tous les instruments, à l'exception de la batterie.
Bien au delà des "petits joueurs" tels que moi qui tentent désespérément de sortir quelques sons de cet instrument il faut bien le dire bien plus diabolique et compliqué à jouer que l'on pourrait le penser avec ses altérations et ses redoutables Overblow, bien au delà de tout cela donc cet album sera sans aucun doute possible une sacrée belle source d'inspiration et de progrès pour bon nombre de musiciens, qu'ils soient simples amateurs ou harmonicistes confirmés !
Il n'y a donc aucune hésitation à se procurer sans attendre ce superbe album que je ne me lasse pas de passer et repasser avec un plaisir sans bornes !

Alain Hiot

Track list :
1 – Start Over Again
2 – I Ain't Never Played An English Song With An English Guy
3 – Are You a Have Or Are You a Have Not
4 – Kws
5 – I Don't Know When I'm Beaten
6 – It Hurts Like Hell
7 – Passed Me By
8 – Help You
9 – 3 Heads Are Better Than 1
10 – I'm Never Gonna Change
11 – It Beats Me Baby
12 – I Gave Up My Evening For This
13 – Waiting Blues

Site Internet de Paul Gillings Ici….